MVR vapor compressor unit
Wenzhou Aowei Machinery Co.,Ltd. is one of the leading China MVR vapor compressor unit manufacturers, welcome to wholesale cheap MVR vapor compressor unit from our factory.
Specifications
1.no need steam
2.only a little cooling water
3.full-automation
4.Low temperature evaporation
vapor compressor unit
The MVR is no need the stem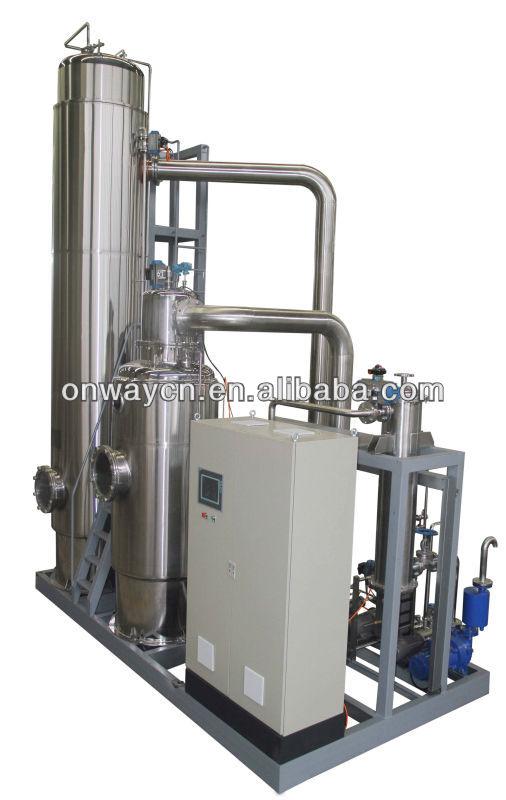 MVR only requires enough energy to run the compressor to compress the steam, so the steam latent
heat is always repeated recycling
Our design can provide your company with the following advantages:
l Ultra-low energy consumption ----------------------- Lower operating costs
l Low temperature evaporation ------------- difficult to fouling and difficult to corrosion
l Short residence time of wastewater ----- -------- - Improve the treatment rate
l Simple process, reliable results ---------------- - Reduced maintenance costs
l Fully automated operation, safe and reliable ------ - Reduce labor costs
MVR evaporator system consists of three parts:
First part:Evaporator system- main constituted by a heat exchanger-304material, water vapor separator.
Second part: MVR system- a vapor compressor, high-speed motor,inverter
Third part: PLC control system- including the control valve, the fluid valves and other valves,and PLC software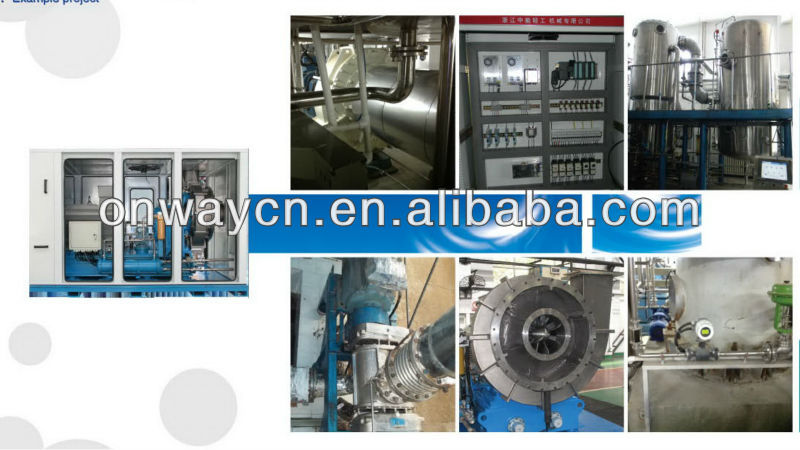 In summary the adventages of MVR system are as follow:
1.Energy saving: high thermal efficiency, energy saving, lower power consumption,the energy consumption is about 1/6To 1/5 of traditional evaporator. significantly reduc the operation cost
2.Environmental protection
2.1No steam
2.2No boiler
2.3No coal
2.4No cooling water
3.Low operating costs: only the traditional evaporators One-third to half
4.Evaporating temperature is low, difficult to corrosion stainless steel equipment, difficult to scale, very suitalbe for heat-sensitive material
5.Automatic: The entire system realized automatic control from the filling, preheating, evaporation, cleaning, maintenance and other steps of the. Avoid human error, reduce the labor costs, improved product quality
6.Small footprint
7.Avoiding the purchase of boilers, chimney construction investment and maintenance costs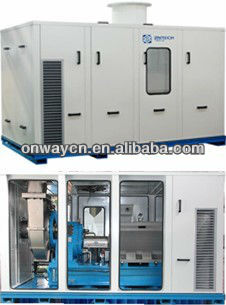 6. Operating costs
Operating cost calculation based on the following:
Working time : 24h/day
330days/y
Electricity unitary cost: 0.12USD / KW/h
Steam unitary cost: 14.USD / T
Cost for evaporate capacity-10000/h

MVR

Traditional evaporator

vapor compressor

25/h

USD24

material feeding pump

22

kw/h

USD2.64

22

kw/h

USD2.64

discharge pump

7.5

kw/h

USD0.9

7.5

kw/h

USD0.9

vacuum pump

2.2

kw/h

USD0.264

2.2

kw/h

USD0.264

water circulate pump

11kw/h

USD1.32

11kw/h

USD1.32

Steam

0

0

88000kg/h

USD123.73

cooling water

6.4

Cost per hour

USD29.124

USD135.254

Cost per year

USD230,662

USD1,071,211

Saving money per year: USD840,548
vapor compressor unit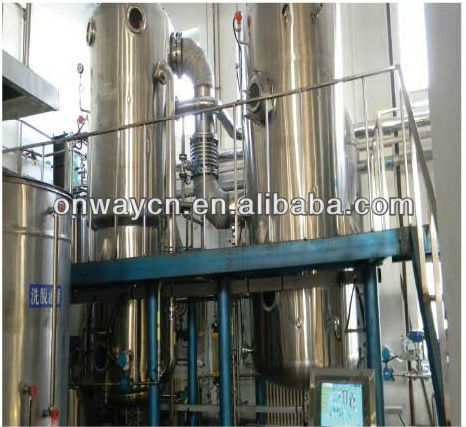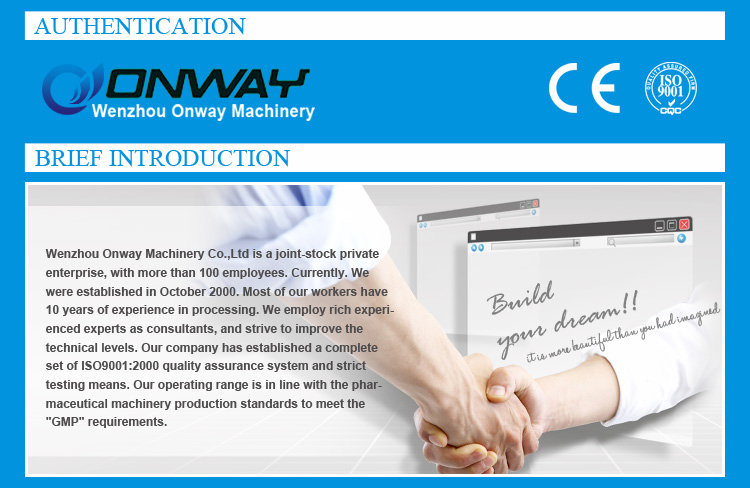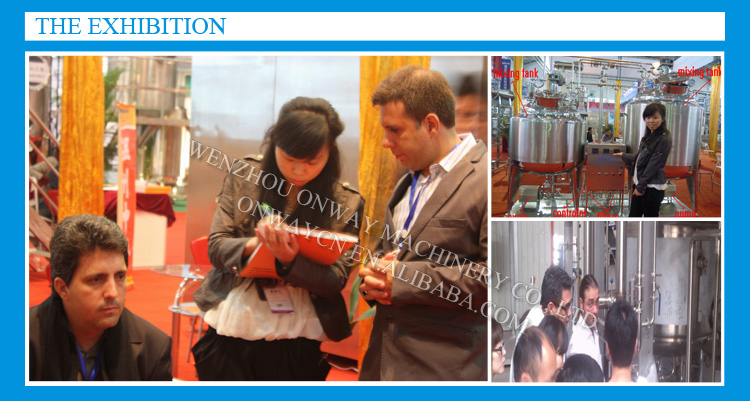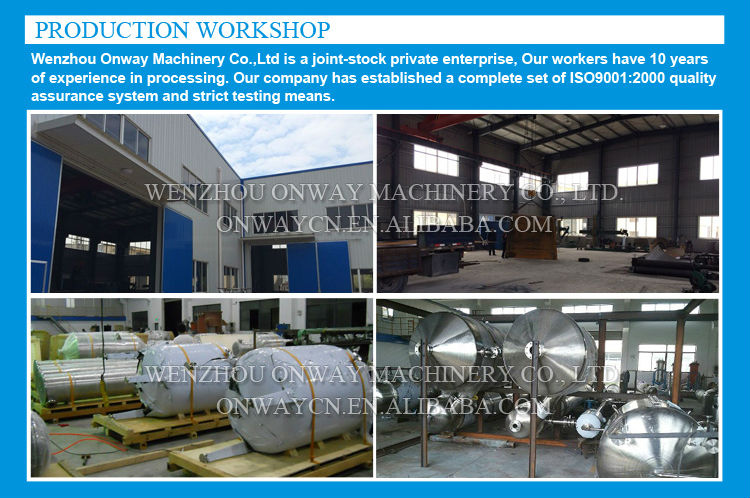 If you have any enquiry about quotation or cooperation,please feel free to email us at
tinazhangfly@aliyun.com
or use the following enquiry form. Our sales representative will contact you within 24 hours. Thank you for your interest in our products.
Subject:

*

Message:

*

Name:

*

Email:

(Please make sure your E-mail address is correct otherwise the recipient will not be able to reply.)
CompanyName:

*

Tel:

(Please make sure your Business Phone is correct otherwise the recipient will not be able to reply.)
Fax:
Address:
Products:
Wait for a While
Did not find the product you prefer? Let us know by talking on trade messager or contact us by email.